Street power sharing, charging your mobile power supply, to alleviate the rainy day! Outside the home, who has not encountered the handset not to have electricity?. With the advent of the 4G era, many people's cell phone batteries are still running for more than a dozen hours. Especially out of play, travel abroad, the experience of mobile phones without electricity is really embarrassing! Usually, what's your first reaction?
Mr. Wang from Changsha said he was visiting Shenzhen last year and wanted to drop in on a friend. But at this time, his mobile phone power is not much, and want to call a friend, let him pick himself up, but there are afraid of friends out, his mobile phone is out of power, and then can not contact. Because he did not bring the rechargeable treasure, depressed, he was like a friend for help. At this time a friend asked him about his position, and then give him to recommend the nearest street charging cabinet. Mr. Wang scanned the two-dimensional code on the motor box of the street through the mobile phone, and finally completed the payment, and then got the power line and charging treasure matched with his mobile phone model. With the street electricity charging products, Mr. Wang successfully found his friend. This street charged and shared their products the next day at a friend's house near the cabinet was returned. It is very convenient, no delay thing.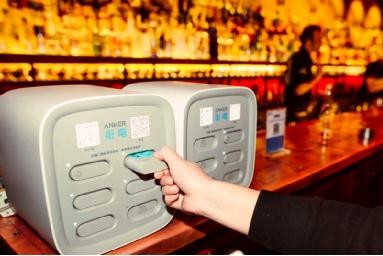 Mr. Wang said that in the streets of Shenzhen, this street electricity sharing charging model everywhere, we have long been commonplace, see used to blame. With the rapid development of Shenzhen in the world, I do not expect street electrical equipment has begun sweeping the streets of Changsha. In my hometown, I enjoy the convenience of street electricity fast charging products again. The same self-service, arbitrary, convenient and quick. Just this time in the streets of Changsha, Mr. Wang has an incredible sense of pride. He said that it would be great to see street power sharing the charging model and quickly popularize his hometown, if one day the whole country is popularized!
The street is Shenzhen street for electrical products by Electric Technology Co. Ltd. to build, the company is headquartered in Shenzhen, has been in Beijing, Shanghai, Guangzhou layout, Shenzhen, Hangzhou, Changsha as a second tier city, and successfully accumulated millions of daily users. Recently, the company announced the completion of the A round of financing up to billion yuan, this round of financing is completed by capital giant IDG and industry giants sunwoda. Street electric science and technology limited company plans at the end of 2017 will be fully covered by more than one hundred city Chinese, complete the line laying market volume will reach millions of cabinet. The background of network sharing street electric charging mode in the material under the occasion, will share much in follow up a victory with hot pursuit, economic dividend market.